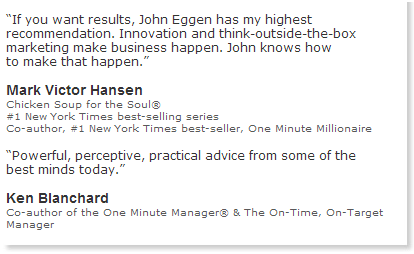 Write and Publish a
Transformational Book that
Attracts New Clients and Generates
Multiple Income Streams
…in as Few as 90 Days
Are you a professional, expert, author or speaker who has a mission, calling or positive purpose you are accomplishing through your practice or business?
Are you struggling with issues like:
How to distinguish yourself from all your competitors, become an acknowledged authority, and attract all the business you want?
How to take your practice or business to a whole new level of service and profitability, letting you work when you want and live where you choose?
How to turn your life-changing idea, book, process, or training concept into a system that serves exponentially more people and creates multiple streams of lifelong income?
How to make your greatest contribution to society, and create your legacy?
Here is the solution. First, you must realize that what you know is thousands of times more valuable than what you do. Second, you must identify the right strategies and systems to leverage what you know. For over 27 years, we have been helping people like you do exactly that.
For example, our mentoring programs can help you leverage your knowledge into a bestselling book and/or up to 79 other information products or programs. Each of them could become a lifetime stream of income. You can adopt strategies that differentiate you from everyone else in your field. Other strategies can help you reach and transform many times more people than you are currently serving, to maximize your contribution to the world.
Since 1983, our specialty has been creating superior results for people like you. Our mentoring programs are one-of-a-kind. They synthesize time-proven, high-leverage publishing and marketing strategies with powerful success strategies from global wisdom traditions. They are based on our mission and my lifelong quest.
For example, here are the results experienced by a few of the people I've worked with:
Here's What Best Selling Author
Robert G. Allen Says…

"John has extensive experience developing books and other information products. But he offers much more. He deeply understands the trends that are re-shaping life today, creating demand for specific types of information you can profit hugely from providing. John knows how to create innovative business and marketing systems almost anyone can use to 'take the lid off' their business or professional practice and turn their ideas into multiple streams of income.

"I'm astounded by his exceptional synthesis of wisdom with business strategies. His insights are far more powerful than strategies I've received from other highly-publicized advisors. I expect one of his recommendations could be worth millions to us . To everyone who is considering hiring him as a publishing and marketing expert, John Eggen has my highest recommendation."

Robert G. Allen
America's most influential financial advisor
Author of 5 New York Times bestsellers
$215,000 in New Business…
Only 12 Months After Book Was Printed

"I have used the book I authored in Mission Publishing's program last year to bring in $215,000 in new business so far. I'm well on track to more than doubling my income in the coming year. It's very exciting. I attribute this directly to my book, since it has established me as an expert in my chosen field, and the tactics John teaches in the program to get business quickly."

Karilee Wirthlin
Independent Professional
Here's What Legendary Publishing Guru
Dan Poynter Says…

"I've admired John Eggen for more than 20 years and been privy to many of his client projects, everything from creating bestselling books to building successful small publishing companies.

"World-renowned gurus, celebrities and experts, as well as countless independent professionals and business owners, report extraordinary results from their publishing and marketing work with John.

"Take a look at all the testimonials they have provided to him. I recommend him to you with confidence. You could be the next John Eggen success story. "

Dan Poynter
The Self-Publishing Guru
You, too, can get these kinds of results by learning and applying the time-tested, step-by-step publishing and marketing systems I teach my clients and members.
Make the money you want and cut years off your publishing and marketing learning curve by avoiding the biggest mistakes most authors make.
Here's how:
* We respect your privacy. You can remove yourself from our email list at any time you wish simply by using the unsubscribe link at the bottom of every email you will ever receive from us.
---
Regional Office:
The Mission Marketing Mentors, Inc.
Support@MissionMarketingMentors.com 650-321-1306
1824 Oak Creek Drive, Suite 414, Palo Alto, CA 94304
© Copyright 2017, The Mission Marketing Mentors, Inc.
All Rights Reserved.